The Football Tradition for the Prep League in
1955
| | |
| --- | --- |
| | Click the program cover to see special St. Aloysius section for the1952 and 1954 to 1956. (Many thanks to Sid Raymond) |
What can we say? After the 1954 game, certainly one of the most exciting in the series' history, the 1955 game has to have been the dullest, especially for Jesuit.
Holy Cross Defeats Jesuit On Fumble 6-0
Winning Score Comes on First Play
By N. CHARLES WICKER
Copyright © 1955, The Times-Picayune
Holy Cross defeated Jesuit 6-0 Sunday at City Park Stadium and went into second place in the Catholic League.
Lou Brownson's Bengals scored the first time they got their hands on the ball following the opening kickoff which Butch Dastugue fumbled and Herbert Lacassagne recovered at the Jesuit eight.
Harold Valentine scored on the first play following the recovery. For the remaining 47 minutes and 52 seconds of play the Jays and Tigers fought head and head with neither team able to score.
Holy Cross had a second scoring opportunity presented them when William Bagley recovered a Blue Jay fumble at the 29. But the Blue and White took over when the Tigers got to the 22.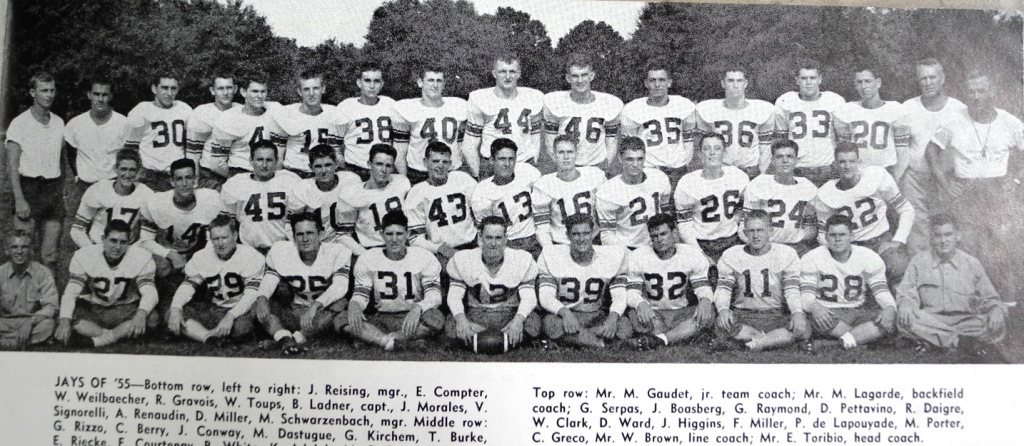 Jesuit had a chance in the second quarter when Gerald Raymond recovered a Tiger fumble on the Holy Cross 36.
Dastugue passed to Jim Higgins but on the next play Arthur Delaup intercepted a Freddie Schwartz pass to stop the threat.
Opportunities continued but neither team was able to cash in.
Roy Deutschmann recovered a fumbled punt at the Jesuit 37, but the Tigers didn't go too far. They gave up the ball at the 25 on downs.
Again Arthur Delaup intercepted a pass thrown by Schwartz at the Jesuit 25. Jesuit made its deepest penetration after that. They took the ball on their own 43 and drove to the Holy Cross 22. The big play was a Dastugue pass to Richard Daigre, good for 13 yards.
In the fourth quarter the Jays recovered a fumbled punt at the Holy Cross 40 but got nowhere.
Our many thanks to Wil Toups (JHS 1957) for providing the program rosters listed here:
| | | |
| --- | --- | --- |
| STATISTICS | JAYS | TIGERS |
| First Downs | 8 | 5 |
| Net Yards Rushing | 76 | 110 |
| Yards Gained Passing | 57 | 8 |
| Passes A-C-I | 18-5-3 | 2-1-0 |
| Punt Average | 36.3 | 23.5 |
| Yards Penalized | 20 | 40 |
| Fumbles | 3 | 3 |
| | | |
| --- | --- | --- |
| LINEUPS | JESUIT | HOLY CROSS |
| Ends | Dick Daigre, Fritz Miller, Claude Greco | Roy Deutschmann, Richie Dallimore, Richie Kelt, Herbie Lacassagne |
| Tackles | Perry Delapouyude, Mike Burke, Dallas Ward | Lou Carbo, Walter Preau, Reiss |
| Guards | Vince Signorelli, J. C. Morales, Gerry Raymond, Bill Clark | LeMay, Malone |
| Centers | Pat White, Gary Serpas | Art Delaup, Harry Schexnayder |
| Backs | Butch Dastugue, Jimmy Higgins, Freddie Schwartz, Don Pettavino, Billy Ladner, Mike Porter Cecil Berry, Eddie Compter, Wilbur Toups | Harold Valentine, Becnel, Brechtel, Joe Scirotino, Solis, Guttuso, Williams, Kieffer, Ballard, Owens |
| | | | | | |
| --- | --- | --- | --- | --- | --- |
| Holy Cross | 6 | 0 | 0 | 0 | 6 |
| Jesuit | 0 | 0 | 0 | 0 | 0 |
1955: Jesuit Defeats Warren Easton 23-7
1955 JESUIT SEASON RECORD
Eddie Toribio, Coach
| | | | |
| --- | --- | --- | --- |
| Opponent | Jesuit | Opp. | Comment |
| Terrebonne | 0 | 12 | (L) |
| Baton Rouge | 7 | 34 | (L) |
| Redemptorist | 13 | 27 | (L) |
| St. Aloysius | 0 | 13 | (L) |
| Istrouma | 0 | 40 | (L) |
| Nicholls | 27 | 14 | |
| Fortier | 40 | 25 | |
| De La Salle | 7 | 13 | (L) |
| Holy Cross | 0 | 6 | (L) |
| Warren Easton | 23 | 7 | |