The Football Tradition for the Prep League in
1934:
1934 TYGER, TYGER, BURNING BRIGHT
If you've ever wondered about the importance of a good coach to a high school football team, the 1934 edition of the Holy Cross Tigers should provide you with all the evidence you need. The program started in 1922 and was not strong enough to win any of the big games. Then in 1924, Holy Cross hired former Notre Dame star player Jimmy Burns to coach the Micks and the result was a prep league championship in 1925, only their fourth year of operations. Burns then returned to South Bend and the Holy Cross program fell into a funk of mediocrity under Johnny Lynch until the school brought in another accomplished mentor for 1933. This time it was Chuck Jaskwhich. He installed a college-style work ethic into the program and his efforts paid a golden dividend in his second year.
Rule Changes: In 1934, the football was slimmer and more streamlined, due to a new national high school rule. Also, the field was widened by 15 yards. These two changes would do wonders for offensive-minded teams.
As we go to the word-for-word Times-Picayune account of the game, we notice a separate article right beside this one, headed "Babe Ruth Hits Two Homers to Delight of Japs." It was datelined Tokyo, Nov. 11. That exhibition game ended with the Ruth's stars beating another US team by 2-0.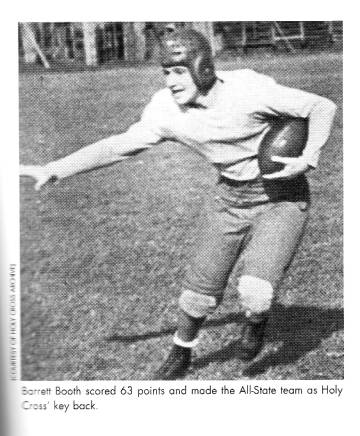 the following is copyrighted (c) 1934, The Times-Picayune Publishing Co.
Holy Cross Defeats Jesuit Blue Jays 6-0 as 14,000 Jam Loyola Stadium
BOOTH MAKES ONLY TALLY IN CONTEST
Undefeated Tigers Have Only One Game, With Aloysius, to Play
By Clifton Dreyfous
(Game played Nov. 11, 1934)
Holy Cross came within an ace of cinching the Class A prep title by scoring a 6-0 victory over the hitherto undefeated Jesuit Blue Jays Sunday afternoon. The largest crowd ever to jam its way into Loyola Stadium saw the most thrilling, although not the best played, game of the year. Fourteen thousand fans filled both stands and the end zones, with many standing around the fences.
The Tigers have only St. Aloysius in their path to an undefeated year. No game has been played with Warren Easton, but there is none scheduled. If it becomes necessary to decide the city crown by such a game, it is possible that a post-season affair will be staged. Aloysius has not won a game this year and the Tigers figure to be heavy favorites in their game next week.
The contest Sunday was not the best game played of the year because there were too many fumbles. Jesuit's Jays suffered most, but every person that saw that game must have had the thrill of his or her life.
Fumbles Spoil Chances
There was only one score. Barrett Booth, Holy Cross' outstanding star, making that in the second quarter, but there were chances by both teams before and after that. Jesuit twice had the ball within a yard of scoring only to lose it on fumbles and Holy Cross, before it tallied, had advanced the ball to the one-yard stripe only to see the threat go for naught when Bernie Boesch let one slip from his hands and go over the goal.
So, even though there were many present who believed that the Blue Jays had received the tough breaks - as theirs came later in the contest – bad breaks were just about even.
That one score just had to come, it seemed. Boesch, who did some remarkable punting for a high school boy, got off a long boot to Antonini, who fumbled, Cy Hickey recovering for Holy Cross on the Jesuit 15-yard line. On the first play, Booth traveled through right guard for 13 yards for a first down on the two-yard line. Booth then socked right tackle, but was stopped one yard short of a tally. Brunner ran into a stone wall at center and then Booth tried left guard, fumbled, and the ball rolled over the goal. Holy Cross had given the impetus to the ball and, therefore, the play was ruled a touchback and Jesuit given the ball on the 20-yard stripe.
Touchdown Drive
That fine running of Booth's had gone for nothing but as the first period came to a close he got going again. Warren Brunner started it with a fine return of Dave Loker's long boot. Brunner caught the ball on his 12-yard line and with some fine broken field running, eluded several tacklers to bring the ball back 25 yards to the Holy Cross 37.
Booth socked left guard for eight yards and the Robert Daller, on two bucks, added two yards and a first down on the 47. Booth pushed the ball deep into Jesuit territory with a driving run through right tackle for 17 yards to the Jays' 36.
D'Antonio cut through left tackle for three yards and then Booth ploughed through center for several yards more. On Booth's run a Holy Cross lineman was guilty of holding and it looked like the drive would fail. The Tigers were penalized 15 yards.
But the great Booth went around left end for 14 yards and then added the same amount through right tackle for a first down on the Jesuit 20.
D'Antonio knifed his way through right tackle for seven yards to place the ball on the Jesuit 13-yard line. Booth, finding a big hole at right tackle, went through and by some neat stepping went the remaining distance for a touchdown, crossing the goal standing up.
His placement failed, being wide. (two lines unreadable)
Jesuit Drive Fails
Jesuit came right back with a drive that missed. Booth kicked off to Bordes, who fell as he caught the ball on the Jesuit 35. Friedrichs picked up three yards at tackle and Holy Cross was penalized five yards. Bordes plunged through guard for seven yards and a first down on the Holy Cross 49.
Bordes got 16 yards on two right end runs and then Holy Cross suffered a 15-yard penalty, giving Jesuit the ball with first down on the Holy Cross 14. Bordes was dropped for a yard loss at right end and Antonini failed to gain at left end, but on the next play, a pass failing, Holy Cross was penalized to the one-yard stripe, again for holding.
On the first play George Antonini fumbled and Ernie Bachemin recovered for the Tigers on the two-yard line.
Booth got off a poor kick, which went out of bounds on the Holy Cross 14-yard line. Antonini took a lateral from Friedrichs and ran 11 yards to the three-yard line. This time Antonini fumbled and LaCroix recovered for Holy Cross. Holy Cross was penalized back to the one-yard line for too many times out but Booth got back in the game at this point and got off a nice boot from behind his own goal line to the Holy Cross 38-yard mark.
As the third quarter began, the Blue Jays started another drive, helped by another Holy Cross 15-yard penalty. But this time Bordes fumbled and D'Antonio recovered for the Tigers on Holy Cross' 26-yard line.
There followed an exchange of boots for the rest of the third quarter with Dave Loker of Jesuit and Bernie Boesch of Holy Cross giving beautiful exhibitions of how kicking should be done. As the final period began the Blue and White started another trek, this time being stopped by Holy Cross and not a fumble.
Ball Goes Over
Billy Krebs, who got in the game when Schulte was hurt, led the parade with several neat runs. The Jays finally reached the Holy Cross 27, where it was last down with three yards to go for the first down. Here they got a good break. Friedrichs passed to Krebs and the pass was allowed for a first down on the 15-yard line.

But Ford tried left end, Friedrichs right tackle and then a lateral pass from Friedrichs to Ford, all of which gained exactly nothing. On last down Ford passed over the goal and Holy Cross got the ball on its own 20.

Jesuit got the ball in midfield shortly after, but again a fumble halted the Blue Jays. This time Krebs made the miscue and from then on in Holy Cross was out of danger.

The contest had all the hallmarks of the requirements of a championship affair, which it probably was. It was the first time Jesuit High, which won the state championship last year, was beaten in two years. Holy Cross suffered a 0-0 tie with Fortier this year, but since that game, Warren Easton has removed the Tarpons (two lines unintelligible).

So Coach Chuck Jaskwhich, in his second year as mentor of the Holy Cross Tigers, seems headed for a prep title, the first time any other school but Jesuits has held it for the past five seasons.

To Barrett Booth, who did most of the ground gaining, go high honors of the day. He is a big back and uses his weight to create a drive, which is well-nigh unstoppable.

But he was far from being the only fine football player on the field. "Schnozzle" D'Antonio, halfback, who was pressed into service because Danny Lyons broke his leg last week, did remarkably well.

With these two, of course, was Boesch, who added some fine running to his great punting. In the line, Ernie Bachemin, at end, was a standout, although Captain Rodney Kissinger and Cy Hickey played fine ball.

For the Blue Jays, who showed great courage, even in defeat, Captain L. G. Friedrichs and George Antonini were the best runners with Connie Miller, who replaced Billy Elder at center soon after the game began, doing the finest defensive work of the linemen. Dave Loker played his usual game at end, which means he went fine, and Jimmy Rooney and Bob Taylor at guard and tackle respectively, going great guns on offense and defense.

Line-ups:


Holy Cross (6) Position Jesuit (0)


Beach L E Loker
Hickey L T Rooney
Pardo L G Taylor
Kissinger Center Elder
Daly R G Scofield
LaCroix R T Kirn
Bachemin R E Hooper
Brunner Q B Antonini
Booth L H Friedrichs
D'Antonio R H Schulte
Boesch F B Bordes

Substitutions:
Holy Cross: Daller, Claverie, Calles
Jesuit: Miller, Krebs, Ford, Dillon, Leinal, Scofield

First Downs: Holy Cross 5, Jesuit 11.
Penalties: Holy Cross 93, Jesuit 10.

* * * * * * * * * * * * *

Season Records: Holy Cross
Commy w 21-7
Bogalusa, w 26-7
Fortier (tie) 0-0
St. Stanislaus w 7-0
Bay St. Louis w 26-7
Jesuit w 6-0
St. Aloysius w 24-12
Jennings w 12-0 (So. La. playoff)
Byrd l 0-14 (State championship)
Easton (tie) 0-0
(7-1-2)

Jesuit:
Behrman w 19-7
Cathedral w 26-0
Commy w 13-0
St. Aloysius w 14-12
Baton Rouge w 6-0
Holy Cross l 0-6
Fortier w 15-7
Easton l 7-25
(6-2-0)