The Football Tradition for the Prep League in
1931: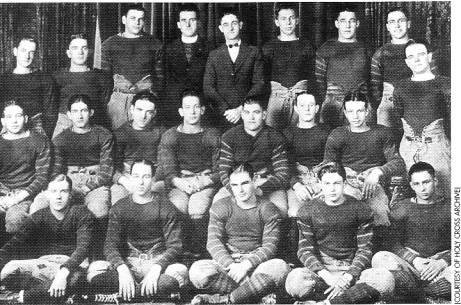 A photo of Holy Cross' very first football team, 1922. Leo Ernst, top row,

was coach.

Copyright (c) 1931, the Times-Picayune Publishing Co.
POWERFUL JESUIT TEAM SMOTHERS HARD FIGHTING MICKS
*****
Large Crowd Sees Micks' Slate Marred
*****
Blue Jay Backfield Sweeps Forward as Unit; Long Runs Feature
****
Game Played November 1, 1931
*****
Overpowered and outmaneuvered, Holy Cross college went down to defeat and saw their hopes of an unbeaten football season wafted away by a Blue Simon Sunday afternoon at Loyola Stadium.
Approximately 7000 fans saw Jesuit High School – with galloping backs running wild behind sharp-shooting linemen rout the Blue and Gold under a 36 to 2 count in one of the most important games of the class A division of the New Orleans Preparatory School Athletic Association.
The Micks fought their hearts out to stem the heavy, hard-charging Blue and White players – and their chalking up of 10 first downs readily attest to this – and struck back with a ferocity that must have brought beams of satisfaction to Coach Johnny Lynch.
The Jesuits were keyed up for what was expected to be a grueling battle.
Jay Offense Gets Going
The Jays' Four Horsemen, Eddie Toribio, Captain George Joint, "Red" Rizzo and Larry Gilbert, Jr. combining speed and elusiveness and blocking that was a revelation, got under way in the second period, and again went so well in the third quarter that Coach Erskine let them remain in most of the route.
Working under a modification of the Minnesota shift and carrying deceptiveness and smoothness in execution, the Jesuits tallied on runs of 84 yards and 52 yards by the 10-second Toribio, 10-yard and two-yard thrusts by the alert Joint, and 14-yard and 68-yard journeys by twisting Rizzo. Joint failed in all place-kicks for the extra points.
Holy Cross, as usual, was quick to seize all opportunities and opened up with damaging forward passes and that's why they had the Jaybirds on the defensive all of the first period, and rallied like the gamesters they are near the end. With about five minutes to go, the Jay safety man made the mistake of taking in a punt on the five-yard line, and he was thrown heavily. On the next play, Martin was downed behind his goal line for Cross' two points.
Strong Jesuit Wall
Besides its four destructive runners, Jesuit High presented a set of forwards led by Leininger, Childress, Ballatin, Roy and others which stemmed every Cross threat, and the losers threatened several times. It was then that Cross, with the accurate-tossing Gerchow and the clever-receiving Guizerix, opened up and fought back desperately. Little Ormsby, tricky and smart, was also a constant ball-carrying threat for Cross, as were "Chet" Wooton, Gerchow and others. On the Cross line, Guizerix, LaRocca and Booth all played well.
Until Wooton, Cross' dependable punter and defensive back, went out with an injured hand the almost packed stands saw Cross playing inspired football. It was "Homecoming Day" for the Jesuits, and the record-breaking 1931 prep crowd had much to marvel in what looks like Jesuits' strongest team in recent years and a favorite to dethrone Warren Easton for the first time since 1927.
The Jays, using a six-man line, throttled Cross' Notre Dame formation effectively except at the start. Not long after the kickoff, the losers recovered a fumble and charged down for their first long gain. But they fizzled again and, though a pass from Wooton to Gerchow brought the ball to the four-yard-line, the Jays held and Roy, who did a nice job all day along with Joint, Wooton and Gerchow, kicked out of danger. Wooton and Gerchow again broke loose before the quarter ended, nullifying the Jays' only long gain by Rizzo, but at the start of the next period, the Jays got down to business.
Toribio Runs 52 Yards
Toribio and Joint started with runs of 10 and 15 yards, respectively, and then Toribio, on a clever reverse play, got in the clear around his own right end, stuck to the sidelines, outsprinted the Micks and went 52 yards for the first tally.
Blocking out of the secondary was perfect on this play, and it kept up not long afterwards when, following Joint's sprint of 25 yards and steady hammering by Toribio and Joint, Rizzo broke through left tackle, reversed his field, and raced 14 yards for the second marker. The third touchdown came with just as startling suddenness when Toribio, on an exact play as the first scorer, swung wide around his own right end, put on the steam when in the open, and swerved down the sidelines for 84 yards, the longest trip of the day.
The Micks were still in the running when the second half opened, and it was some time before Joint and Gilbert consistently worked the ball to the 10-yard line and Joint twisted off left guard for a score. The winners were now working their plays faultlessly. Gilbert carrying the ball on beautiful "sneaks" and the Cross forwards being moved aside on delayed bucks.
Rizzo Gallops 68 Yards
Rizzo capped the long touchdown runs when he cut back over his own left tackle, reversed his secondary, and sprinted in the clear for 68 yards. Joint paved the way for the final tally, when he followed perfect blocking for 50 yards to bring the ball to the 14-yard line. From here Gilbert crashed left guard for ten and two more steady bucks by Gilbert were followed by Joint's sally over right tackle for the 36th point.
From then on, Cross refused to quit. They brought the spectators to their feet when passes by Ormsby and Gerchow to Guizeriz worked the ball to the 13-yard line once, and the 15-yard stripe on another occasion. But always the Jays, after Gerchow, Fournet, Ormsby and others worked the ball a little closer, braced and threw back the persistent challengers. The end found Cross passing desperately at midfield.
Cross' two closest scoring threats were in the first period, when a leaping forward pass missed by inches from being a first down on the Jays' four-yard line, and in the last period, when Fournet went off left guard to plant the ball on the five-yard chalker.
But always the Jays kicked out of danger, sent their ends scampering down madly to keep the ball out of reach, and went merrily on their way to an undefeated campaign. St. Aloysius, Warren Easton and Fortier are still ahead, but from here the situation is very much "Blue."
You can count Cross in the running from now on. This defeat did them more good than harm and the Micks will be a better club for it.
Lineups:
Holy Cross Position Jesuit
Guizerix LE Childress
Fernendez LT Hartson
Kerber LG Madden
Ryan C Sloo
Bachemin RG Finnan
Brummer RT Roy
LaRocca RE Leininger
Martin QB Joint ( c )
Wooton ( c ) LH Toribio
Sciortino RH Gilbert
Gerchow FB Rizzo
Substitutes:
Holy Cross: Panting, Duplantis, Ormsby, Booth, Fournet, and Hinterlane
Jesuits: Ballatin and Martin

Jesuit's (almost) untouchable team of 1931: Backs: Ray Rizzo, Larry Gilbert, George Joint and Eddie Toribio. The linemen were: G. Leininger, Ed Fortier, C. Finnen, Tom Sloo, W. Foy, W. Hartson and Al Childress.
After that game, Holy Cross went on to win all of their games and Jesuit defeated Fortier 40-0, Hammond 45-6, and St. Aloysius 33-6. That was enough to get them into the playoffs for the second straight year. They faced Lake Charles High on the road on December 6 for the South Louisiana championship. Winning by 19-0.
The annual Easton clash, scheduled for December 12, was to be played between the state semi-finals and finals. Before a huge crowd of 13,000 at Tulane Stadium, the Jays won a hard-fought thriller by 12-0. That made ten straight for Jesuit with no team scoring more than six points. They were set up for the big state championship against powerful Byrd High. The game was played in New Orleans. The Yellow Jackets were strong and big, outweighing the Blue Jays by 21 pounds per man. With muddy and rainy conditions, Byrd plucked the Blue Jays feathers by a score of 14-0.
For the year, Toribio had 19 touchdowns and Joint had 15. The three top scoring leaders citywide were Toribio, 114, Joint 102 and Rizzo in third place with 56. A pretty impressive backfield, in any league.
In 1931 Holy Cross had put everyone on notice that they were never again to be taken lightly and, very soon, their appearance on a football field would strike fear into the hearts of every opponent.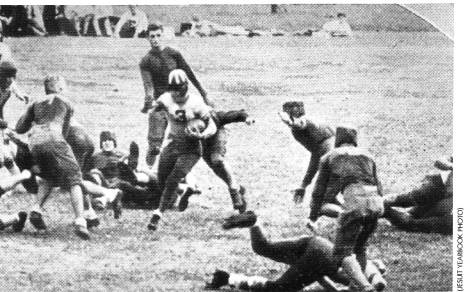 Speedster Eddie Toribio cuts through Easton's line like a hot knife through butter
on a touchdown jaunt in 1931.
After the dust settled in the winter of 1931, we find the series
Standing at 9-1-1 in favor of the Jesuit Blue Jays.
| | | | |
| --- | --- | --- | --- |
| SEASON RECORD | Jesuit | Opponent | |
| JESUIT | | | |
| Doc Erskine, Coach | | | |
| Independence | 27 | 0 | |
| Landry Memorial | 73 | 12 | |
| Commercial | 33 | 7 | |
| Baton Rouge | 19 | 6 | |
| Holy Cross | 36 | 2 | |
| Fortier | 40 | 0 | |
| Hammond | 45 | 6 | |
| St. Aloysius | 33 | 6 | |
| Warren Easton | 12 | 0 | |
| Lake Charles | 19 | 0 | So. La. Playoff |
| Byrd | 0 | 14 | (Loss) State Championship |
| Totals 10-1-0 | | | |
| | | | |
| --- | --- | --- | --- |
| SEASON RECORD | Holy Cross | Opponent | |
| HOLY CROSS | | | |
| , Coach | | | |
| | | | |
| | | | |
| | | | |
| | | | |
| | | | |
| | | | |
| | | | |
| | | | |
| | | | |
| | | | |
| | | | |
| Totals 0-0-0 | | | |
| | | | |