The Football Tradition for the Prep League in
1951 (First Game)
In 1951, the two teams again were the best of the league. Holy Cross was on their way to an undefeated season after beating Jesuit in their annual grudge match; however, the lightly-regarded Nicholls Rebels put a damper on the Tigers' season and, in upsetting Holy Cross in the final regular season game, forced the Tigers into a playoff contest against the Blue Jays. The game proved to be another nail-biter, as evidenced below. Here is the report of the first game, as reported in the Times-Picayune. The regular season game was played on Sunday, November 18, 1951:
Copyright © 1951 The Times-Picayune
HOLY CROSS LOOMS AS PREP CHAMPION IN UPSET OF JESUIT
Delaney Leads Tiger Attack
Joe Tallies Bengals' Three Touchdowns
BY N. CHARLES WICKER
Holy Cross uncovered a new star - Joe Delaney- Sunday afternoon as the Tigers rose to the occasion to defeat the Jesuit Blue Jays 20-13 at City Park Stadium before the largest crowd in some time, 22,500 fans.
Lou Brownson's Bengals are now the city and the state's only undefeated AA high school gridiron aggregation. A rank underdog going into the game with the Jays, they were picked to be beaten by a 20-6 count by Louisiana sports writers and sports casters. The Tigers played their greatest game of the year in chalking up their seventh straight win. It was the Jays' fist loss in eight games.
Victory just about sewed up the third straight championship for the Bengals. The Bengals have two more games remaining. They play Nicholls next Sunday, and battle Fortier's Tarpons the following week.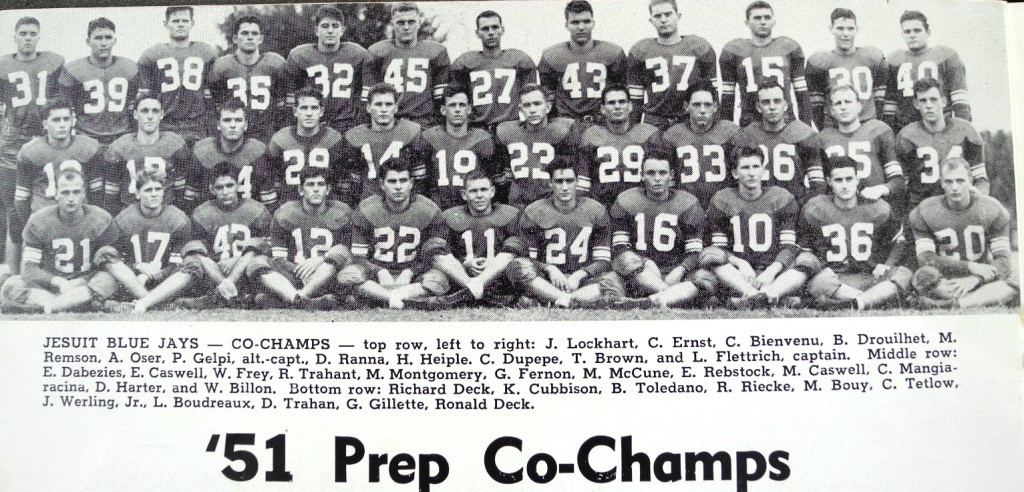 1951 JESUIT BLUE JAYS CITY CO-CHAMPIONS
Previously unknown and unheard of, Delaney scored all three of the Tigers' touchdowns. The first on a five-yard smash, the second on a 15-yard end run and he ran 69 yards around right end for the final tally.
Delaney was the best offensive star for the Bengals. Their 16-pound-per-man weight advantage was too much for the Jays to overcome.
Sharing the limelight with Delaney were co-captain Vincent Gonzales and Louis Deutschmann. Gonzales did a splendid job guiding the Tigers' offense and played a whale of a defensive game. Pete Castignetta also looked fine on defense in the Tigers' secondary.
Roy Willhoft, Donald Masinter, Jack Carmody, Jack Kuchler and Bill Nuckley were other Tigers that stood out.
It was Gonzales who turned what looked like a Jesuit touchdown in the opening period into a Holy Cross score. That one play seemed to take the starch out of the Jays.
The Tiger co-captain intercepted a Don Harter pass at the Tigers' 33-yard line and returned it to the Jesuit 28-yard line to set up the first Holy Cross score, which came four plays later.
Deutschmann was too powerful for the smaller Jesuit players to bring down. The city's top ground gainer followed behind Delaney in yards gained with 85 yards in 10 tries.
Jesuit out-first-downed and outgained the Tigers in total yardage.

| | |
| --- | --- |
| | |
| Leon Flettrich, Jesuit Captain and All-American Center | Don Trahan, Co-Captain and Tailback |
Much of Jesuit's yards gained was inside the 35-yard lines - once they got beyond that point they ran into trouble with the Tigers. The Jays registered 12 first downs to seven for Holy Cross and picked up 242 yards running and passing to 219 for the Bengals.
The Jays suffered from the absence of their stellar halfback Clancy Dupepe, last year's top ground gainer. He's out with a charley horse and got in the game for only three plays - one running and one passing play in the first half and he threw one aerial in the third period.
Holy Cross didn't complete a single pass in the entire 48 minutes. They picked up 219 yards running as compared to 163 yards gained by the Blue and White on the ground. Jesuit got 78 yards through the air.
Holy Cross did its scoring in the first and third periods. Jesuit's scores came in the third and fourth quarters.
Erwin Caswell tallied the first Jesuit score, on a 15-yard run, and a 37-yard pass from Don Harter to Richard Rieke gave the Jays their other tally.
Gonzales passed to Rusty Smith for both Tiger extra points. Lee Boudreaux converted the Jesuit placement.
| | | |
| --- | --- | --- |
| LINEUPS | HOLY CROSS | JESUIT |
| Ends | Charlie French, Dalton Truax, Unger, Ray Heap, Lester Key | Richard Deck, Paul Gelpi, Lockhart, Jeff Rebstock, Dabezies, Julius "Penune" Werling |
| Tackles | Jim Carmody, Gerald Goertz, William Nuckley | Remson, Ronald Deck, Heiple, Bienvenue, Alvin Oser |
| Guards | Raymond "Willie" Willhoft, Donald Masinter, John Bolling, Jim McDowell, Donald Crimen | Reggie Trahant, Fernon, Montgomery, Frey |
| Centers | John Kuchler | Leon Flettrich, Will Billon |
| Backs | Vincent "Pepe" Gonzales, Rusty Smith, Joe Delaney, Lou Deutschmann, Donald Carriere, Peter Castignetta, Kenneth Schulte, Frank Sclafani | Donald Trahan, Don Harter, Rieke, Erwin Caswell, Clancy Dupepe, Boudreaux, Mike Caswell, Cubbison, Tetlow |
| | | | | | |
| --- | --- | --- | --- | --- | --- |
| SCORE BY PERIODS | 1 | 2 | 3 | 4 | Tot. |
| Holy Cross | 7 | 0 | 13 | 0 | 20 |
| Jesuit | 0 | 0 | 6 | 7 | 13 |
| | | |
| --- | --- | --- |
| STATISTICS | H. C. | Jes. |
| First Downs | 7 | 12 |
| Yds. Penalized | 15 | 10 |
| Yards Rushing | 219 | 163 |
| Yards Passing | 0 | 79 |
| Total Yards Gained | 219 | 242 |
1951 JESUIT SEASON RECORD
Gernon Brown, Coach
Opponent

Score

Comments

Baton Rouge

19-0

Redemptorist

54-0

St. Aloysius

35-8

Terrebonne

27-20

Nicholls

20-12

Fortier

34-0

Pensacola

32-7

Holy Cross

13-20

Loss

Warren Easton

20-6

Holy Cross

14-18

Loss*

Season 8-2-0

* Playoff Game
SEASON RECORD

HOLY CROSS

LOU BROWNSON, COACH

SCORE

COMMENT

Sulphur

13-0

Baton Rouge

28-6

Bogalusa

13-7

Redemptorist

35-6

St. Aloysius

25-20

Warren Easton

41-19

Jesuit

20-13

Nicholls

6-25

Loss

Fortier

33-6

Jesuit

18-14

Playoff

Istrouma

20-38

(Loss) S. La Championship

Season Record 9-2

Thanks to Warren Gravois for looking up HC info in yearbook for us.