********************
1927 game account follows:
Copyright (c) 1927, The Times-Picayune Publishing Co.
BLUE-JAYS RUN UP RECORD 72-0 SCORE AS GANNON GALLOPS
JESUITS KEEP SLATE CLEAN, SINKING CROSS
Micks Held Scoreless First Time, Closing 1927 Season
BY GENE THATCHER
Miscellaneous little blue streaks, running with the speed of a Mercury and the power of an Ajax, literally played tag with the Holy Cross college football team yesterday afternoon at the Loyola University Stadium.
The Micks, beaten only once this season and closing a campaign with a hectic wind-up, were "it" most of the time as the Jesuit High school scampered over, under and around their Class A rivals for a 72 to 0 victory.
It was the highest score piled up by a prep eleven for 1927 and a record-breaking crowd of 8000 alternately cheered and groaned as Bernard "Shorty" Gannon, one of the greatest openfield backs ever uncovered in the New Orleans Preparatory School Athletic Association, led the Blue-Jays on their unbroken string of victories. Only the Warren Easton Boys' High School remains in the path of the Jesuits being the only team to boast an undefeated schedule this season and that includes the entire New Orleans collegiate as well as preparatory school world.
GREAT SCORING MACHINE
Joe Lynch's Cross gamesters, failing to score for the first time this fall, played grand ball in spots, but the Micks needed more spots than a leopard to keep up their brilliant work of the first quarter to hold the greatest scoring machine that has ever come out of the Catholic school. With comparative scores unmistakably ranking the Jays as stronger than their arch-rivals for the annual classic December 10, "Doc" Erskine's large, versatile and alert band will probably enter what looks like the most colorful tilt in years with a little the best of it in dope.
(Robert H. "Doc" Erskine Photo, below)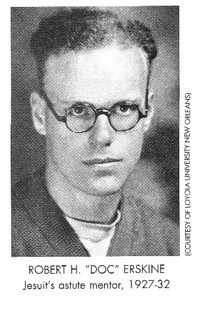 During the first period, before the Jaybirds cut loose in their customary devastating fashion, Holy Cross held their ground so well in the face of repeated bad breaks that nobody in the assemblage expected to see what started out as an evenly-matched war turn into an utter rout, getting worse as play progressed. In the final summing-up, about the only thing that was even was the cheering as the small but loyal band of Blue and Gold bunched in the east end stands kept apace with the Blue and White supporters in the upper tier of the west side with yells of defy after defy.
TEMPORARY HALTS
One of the biggest reasons for the gallant though hopeless stand of the Micks was the realization that Coach Lynch could "shoot the works" and they had the benefit of the best punter in the City Prep League in the person of Eddie Amyette. Amyette was rushed on many of his attempts, but he got 'em away high and far-reaching. But his mates didn't cover the boots quite as well as did the exacting Blue-Jays, and the boots were merely temporally halting of Jesuit advances that became monotonous in being built almost entirely around long, sweeping runs or easily executed forward passes.
The Jay backs were almost unstoppable when once out in the open and they nearly always cut through any part of the line to get free of scrimmages as Gannon chalked up four touchdowns, Tom Daigle two, one each going to Raymond Mock, Mike White, Leonard Mock, Warren Aitkens and Harry White. To be sure that the Micks weren't even going to seriously threaten their goal, Frank Courreges gave an exhibition in defensive play in backing up the line that was a revelation. He was in every play no matter where it started or ended, and was given great support by Captain "Man" Montagnet, Snee, Ray Mock and a flock of others. Everybody romped in the backfield and there were many as every available player on the bench was used and by Cross as well.
M'INNESS FEATURES
The breaking through to block kicks and all-around play of McInnes was a stand-out feature for the losers, with Amyette, Hemelt, Cau and others contributing some nice work. D'Aquin and the desperate plunges of Captain Jerry Grix were the highlights of a Cross offense that many times got going well. Bill Seeber and Felix Boesch were also nice gainers, but Cross suffered heavily through the inability of "Midget" Meyer to pass with any accuracy with most of his receivers well-covered and being rushed behind the line.
The Jays scored through almost every channel and chalked up extra points the same way and they wasted no time in demoralizing the opposition. "Shorty" Gannon took in one of Amyette's lofty punts on his own twenty-yard line to gallop 80 yards for a touchdown in the first half-minute of play. Gannon showing some fancy stepping in breaking through would-be tacklers and then following perfectly a four-man interference the remaining distance through an open field. Lloyd Smith place-kicked for the seventh point. That was all the scoring for the first quarter as both sides had to continually resort to kicking though D'Aquin was covering a little ground for Holy Cross and White, Gannon and Warren Aitkens were doing the same for the Jesuits.
ADVANCE 75 YARDS
Just when it looked like Cross was going in her best form, the Jays held and started a seventy-five yard advance of their own to score again. With Gannon, Aitkens, Courreges and Daigle all standing out, especially the latter, the ball was worked to the thirty-four yard line. From here, Aitkens tossed a long one to R. Mock, who ran for the tally. A pass from Aitkens to Gannon was good for the extra point. The Jays kept the ball down in Cross territory for the balance of the half, putting over their third touchdown following the recovery of a fumble by Snee and a run by Aitkens, Gannon going over through the center. Amyette stepped in to block DeBuys drop kick with his face. Another Cross fumble and a Jesuit recovery and runs by DeBuys set the spark for a thirty-seven-yard run by Gannon for a tally. DeBuys' drop kick was low. The half ended not long afterwards, after both sides gained appreciable yardage.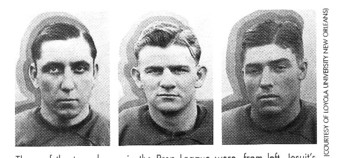 The third quarter was a nightmare. Aitkens intercepted a pass to run twenty-five yards for one touchdown; Gannon covered almost forty not long after; runs by Aitkens and Gannon put the ball close, from where Mike White dove over. Daigle scored one after a steady advance from midfield by White, Daigle, Aitkens and Courreges; and L. Mock intercepted a pass from Meyer to scamper forty yards for a touchdown. Mike White made two extra points from drop kicks and Aitkens drop-kicked for the other.


Above Photo: Bernard "Shorty" Gannon, Jesuit, William "Buck" Seeber, Holy Cross and Ray Mock, Jesuit.
The scrubs kept up the rampage in the final period; passes from Aitkens to L. Mock and Daigle paving the way for the tenth touchdown, coming when Daigle plunged over the line. A march of over eighty yards, with Harry White, DeBuys and Durning and passes from Durning to White and DeBuys, enabled Harry White to go over for the finale. Smith's place kick was good for one extra marker, and DeBuys' place kick was blocked by McInnes.
The game ended with the Jays still to the fore and apparently on their way to more points.
Line-ups and summary:

Holy Cross (0)

Pos.

Jesuits (72)

Schloegel

L.E.

Snee

Connorton

L.T.

Vella

Prevost

L.G.

Fazzio

Amyette

C.

Montagnet (c)

Hemelt

R.G.

Winters

Rabel

R.T.

Pozzi

Cau

R.E.

R. Mock

Meyer

Q.B.

Aitkens

Seeber

L.H.

M. White

Shepperly

R.H.

Gannon

D'Aquin

F.B.

L. Smith
Substitutions:

Cross

Grix, McInnes, Dabdoub, Espinosa, Favret, Belina, LaCroix, Ducote, Boesch, Antoine

Jesuits

Daigle, Courreges, DeBuys, Morris, Valladie, Danjean, H. White, Argote, Koehler, Page, Durning, Scheuring, L. Mock, Connors, Donelon
Statistics

First Downs

Cross 6, Jesuits 19

Penalties

Cross 15 yards, Jesuits 40 yards
SEASON RECORD

JESUIT

Jesuit

Opp.

Doc Erskine, Coach

Terrebonne

39

6

Varnado

65

0

Bay St. Louis

68

0

Reserve

18

0

Spring Hill

32

0

Franklinton

20

0

Holy Cross

72

0

Warren Easton

36

19

Totals 8-0-0
Summary: Jesuit leads the series 3-1-1.