The Football Tradition for the Prep League in
1926:
A SEASON TO FORGET (FOR MANY)
In the 1926 season, the prep league began experiencing growing pains. A move was begun to get a quality stadium dedicated to high school football, but it was not to bear fruit for another dozen years. Tulane University had just unveiled their new stadium in October, 1926. Both Tulane and Loyola had scheduled mostly home games for the season so they could not easily accommodate the prep players.

This was the year that Jesuit High School moved from Baronne and Common out to their new building on S. Carrollton Ave., which is still their home today, though expanded several times over the decades. John Paquette took office as registrar at Jesuit and his daily diary of activities, which continued for fifty years or more, is still referred to by school historians. when the new school opened, there were no desks for the 520 student population, so they were sent home while the desks could be located. Jesuit's tuition went up to $40 per semester that year, a good bargain, even in 1926 dollars. Due to other confusions, the school session did not begin in earnest until September 29.

Jesuit's Bill Healy hired "Doc" Erskine as an assistant coach. Doc would later become one of the best during his short tenure and would move the school to a state championship level of competition, although 1926 would prove to be a disappointment. They did make use of one of the fastest sprinters of the century, Emmett Toppino, who would later tie the world record for 100 meters.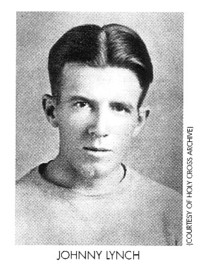 COACH JOHNNY LYNCH
OF HOLY CROSS

A very young Johnny Lynch would take over the reins at Holy Cross. They had lost most of their top players form their 1925 co-championship season. Jesuit's poor season, coupled with Holy Cross' fine record of 1925, gave the Easton-Holy Cross game its greatest standing ever. Warren Easton won handily by 44-7.

At season's end, the Blue Jays would tie Easton at 7-7 before 8,000.

A sad bit of news for 1926 was the death of Percy Hereford, a Jesuit player. He was knocked unconscious in a November 30 game at the Algiers Naval Station. A physician that examined him at the scene failed to see the seriousness of the situation. The true diagnosis was a broken neck. Young Hereford lingered on at Hotel Dieu where he finally expired on December 28. To our knowledge, he is the only player every mortally injured in a New Orleans prep game.
1926 being a lackluster season for all contenders, no high school claimed the city championship. They all said, "Wait till next year!"
Here is the Jesuit-Holy Cross game account. The game was played on Sunday, November 21, 1926:
JESUITS, HOLY CROSS BATTLE TO 7 TO 7 TIE BEFORE 2000 FANS
CLASS A RACE TIGHTENS UP; EASTON LEADS
McVitch Scores With dislocated Shoulder Blade; Gannon, Roy Shine
BY GENE THATCHER
This is a story of two of the gamest prep football teams to don moleskins on local soil. A story of how the Jesuit High school and Holy Cross college fought to a bitter 7-7 tie yesterday afternoon at the Loyola University stadium before 2000 wildly excited-fans.
How, with the Jesuits leading 7-0 midway in the last quarter, a tiny quarterback, Johnny McVitch, captain of Holy Cross, with a dislocated shoulder blade, was rushed into the heat in the third game Class A game of the season. How the Blue and Gold "ace" plunged through center for a touchdown, coming up out of the mass of players writhing in pain and painfully holding his left shoulder.
How "Heine" Zimmerman, one of the smallest youngsters out of the stock of brilliant, valiant "kid" players dropkicked goal for the seventh point, tying the score.
How the Jesuits Blue-Jays, marshalling their forces together after a star lineman in "Heavy" Moore, having been called away to a dying father, threw their lightweights and indomitable courage against an indomitable Cross forward wall.
LONG DRIVE DOWN FIELD
How, in one sustained drive down the field, led by the squirming, ever-forward Bernard "Shorty" Gannon, the Blue and White charged from their own forty-five yard line in the second quarter, sent the brave little Gannon over center for the first touchdown.
How Mike White, a small lad whose play was sort of inconsistent, booted a perfect dropkick over the bar that sent his team out in front 7 to 0.
On one side was a rejuvenated Jesuit eleven, smarting after many defeats this year, rallying its forces for a concentrated attack that would keep its colors in front of this history-making Class A race. With two ties and no defeats so far, Bill Healy's speed merchants will go into annual conflict with Warren Easton December 11 at the new Tulane Stadium with a probably title hanging in the balance.
On the other side was a determined, spirited band of warriors imbued with the never-say-die spirit of their coach, Joe Lynch, himself only a youngster and a player last year.
It was Holy Cross' Class A debut, and it now looks like anybody's race.
In the second quarter, the Jesuits almost put over a clincher, when White's dropkick from the twenty-five yard line following a long advance, was a little too low of the cross bar for three points.
ALL WIN GLORY
Every player who went into evenly matched, cleanly played struggle covered himself with glory. Rushed on nearly every punting attempt, Center Amyette of Cross sent up high-soaring boots through desperate, clutching Jesuit fingers, many times topped over by lunging Jesuit tacklers and on other occasions, getting 'em off despite bad passes from center. On the other hand, Landry of Jesuits turned loose lofty, graceful punts that sent the ball deep into Cross territory during two quarters. Landry's kicks were educated, he placing several out of bounds within the twenty-yard line. Punting honors for the day were about even.
Once stunned, Gannon broke loose with the longest runs of the day, but there were many other ball-carriers who helped make the scales even. For Holy Cross, there was the hammering Jim Roy, playing his first year, who frequently carried three or four Jays along on his huge frame. There also was Jerry Grix and his crashing bucks and tossing of accurate forward passes in the final rally; Voisel with his knocking down of passes and defensive work; and Zimmerman, whose toe saved the day and his generalship also were almost faultless.
Quarterback Hebert pursued Gannon as a close second for gains made, while Landry's leading of interference and defensive work stood out. On the Jesuit line, left end Snee, holding a football for the first time this year, was in on nearly every play, while Bob Gilmore was right there, as was Captain "Man" Montagnet and Willie Sehrt, with Frank Courreges showing up

"Man" Montagnet in recent days
well in his debut at left guard. Trebucq, Falgoust, Amyette, the alert Frank Diaz, who scooped up many fumbles. "Winnie" Winterer and Alton Boudreaux all stood out, the latter a past master at snagging forward passes while on the dead run.
FUMBLES FREQUENT
Thought fumbles were frequent to check both teams' advances and start Cross off on its tying way, the scarcity of penalties and hard tackles by both clubs figured in the final summary that left the two factions and the spectators well pleased. Jesuits' plays ran off smoother, more sure-like, but Cross, because she never once gave up what for three quarters looked like a lost cause, evened it up with its advantages in weight, strength and condition. Outside of the unfortunate injury to McVitch that sent the little fellow into the fray and out twice, Cross looked good in repeating its season's record of not allowing an opponent to score in the last half. It is possible that the Jays' aerial attack might have worked more effectively if Emmett Toppino, the receiver from the elusive and speedy Gannon, hadn't been out of the line-up with a sore foot.

Blue Jay football star and future Olympian Emmett Toppino

Cross showed three sustained drives, one stopping on the three-yard line in the first quarter and the other checked by the Jays on the seven-yard line in the third period when a pass by Zimmerman was knocked down by Gannon behind the goal line. The third was successful runs by Voisel and Grix and a neatly-executed pass from Grix to Boudreaux, putting the ball where Grix and then McVitch carried it over. During the rest of the time, Cross plays were being jumbled by the backfield, but Amyette saved the day by his punts. But several times that same Cross secondary defense brought down the dodging Gannon and White when the Jays were on their way to clear fields and touchdowns.
The Jesuits were slow in getting started, but Gannon soon put them on their way, his run of thirty yards on a triple pass behind the line of scrimmage, starting himself, Hebert and Landry for the touchdown. And the Jays put a real thrill on at the finish when, after a bevy of incompleted tosses by both sides, White ran out into the open and snagged a pass form Gannon to romp to the five-yard line before being brought out of bounds by Trebucq with the end in sight. From here, Voisel knocked down a toss from behind the goal line, and the Micks were ploughing through at the bell.
Lineups:

Holy Cross (7),

Pos.

Jesuits (7)

Trebucq

L.E.

Snee

Falgoust

L.T.

Favalora

Barthelot

L.G.

Courreges

Amyette

C.

Montagnet (C.)

K. Diaz

R.G.

Sehrt

Wingerter

R.T.

Gilmore

Boudreaux

R.E.

Danjean

Zimmerman

Q.B.

Hebert

Guix

L.H.B.

White

Voisel

R.H.B.

Landry

Roy

F.B.

Gannon
***************